A few weeks ago, I gave a speech at the North American Council on Adoptable Children's Annual Conference. I have had several requests for copies of this speech, so I decided to post it here as a blog post. This is longer than my usual blog, but I hope you enjoy it. 
COURAGE Good afternoon. I am here today to talk to you about courage. The courage it takes to keep moving forward in your journey even when the path is dark, the clouds are gathered and the terrain is terrifying.
How many of you remember watching the movie version of The Wizard of Oz as a child? Then you may remember this speech….
"Courage! … What makes the flag on the mast to wave? Courage! What makes the elephant charge his tusk in the misty mist, or the dusky dusk? What makes the muskrat guard his musk? Courage! What makes the Sphinx the Seventh Wonder? Courage! What makes the dawn come up like thunder? Courage! What makes the Hottentot so hot? What puts the ape in ape-ricot? What have they got that I ain't got? (Courage) You can say that again!"
I'd like to share a few things we can learn about courage from the cowardly lion and a few other sources that have meaning in my own life – I hope they will be meaningful to you as well. I need to start by telling you the truth – it is taking a tremendous amount of courage for me to stand up here in front of you to give this speech today. You may not realize that because I am a speaker. I speak in front of crowds like this nearly every week. Why would today be any different?
Exactly 4 weeks ago today, on a sunny summer Saturday just like this one, my fourteen-year-old grandson, Destin, died. He drowned in a tragic and wholly unexpected accident that nearly ripped my heart out and tore my legs from under me. I wasn't sure if I could go on with my responsibilities to my family, my work, or to this speaking engagement. Continuing to put one foot in front of the other after losing a child requires a super-human kind of courage. A kind of courage no person, least of all me, has on their own.
So how is it that after such an unspeakable loss, so recent, so raw, I am able to stand before you today? It is in part because of my faith, but I will tell you the truth, the loss of a child is something that rocks even the foundation of your faith – in moments like this, I need more.
It is in part because of my family – and I am so thankful for my entire family - especially for the three members of my family that are here with me today – Hector – Chelsea – Renee. We draw courage from one another. And yet, I tell you the truth – when an entire family goes through a trauma such as this, we need more.
And so I think of another time I was at a NACAC conference in Columbus Ohio. One of the days before our time ended, I took Renee and my grandson Daniel to the Olentangy Indian Caverns to explore the underground caves. When we were at the top of one particularly dark and deep portion of the caverns, I saw Daniel's eyes widen like saucers. His mom, Renee, asked him if he was frightened. He didn't reply. I could see the fear on his face and it mirrored mine – it DID look a little scary down there.
"I wouldn't blame you if you were scared, Daniel," I said to him – peering into the abyss. "It looks scary to me; I am not sure I want to go down there."
At that moment, his face changed as he reached his small hand out to hold mine. "It's OK, Nanna," he said, grasping my hand. "We can do this. Let's be brave together." "Let's be brave together." He shared a bit of his courage with me, I shared a little of mine with him, and together we had just enough courage to take the next step on that dark and scary path.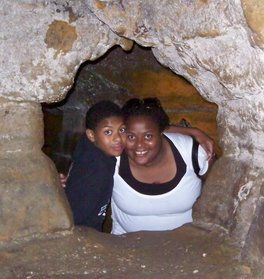 I learned something about courage that day, and out of it came the title for this talk, a title and a talk I planned months ago, long before I knew that tragedy would befall me in the days before I was to arrive at this podium.
So, while I am shaky both inside and out, I want to go forward and share these thoughts with you – because I know there are times when we all need just a little bit more courage to get through the day.
Of course, surviving the loss of a child takes courage, as do some of the other "BIG" crises or events that many kin, foster and adoptive parents often face –
The times when a child is arrested
Tries to burn down your house
Steals your car.
The call from the hospital that your child is injured from a car wreck
Or suffering from a drug overdose
Or experiencing a psychotic break
These are but a few examples of the BIG moments when we need more. No matter how deep our faith, no matter how close-knit our family, in moments like these – we need more – we need someone to come alongside us and say, "You can do this – let's be brave together."
But there are also many, many moments every single day as we live with and love our children, or seek to support older youth on the brink of that big scary abyss of adulthood – there are so many moments in everyday life that also take courage. It takes courage to………..
Return the 14th phone call from the school about your child – when it is only Tuesday
It takes courage to tell your relatives you will NOT attend a family BBQ because your will not expose your African American children to your racist uncle John.
It takes courage to call your boss – again – explaining why you will be late for work as you try to coax a child experiencing a trauma trigger to come out from under the kitchen table.
It takes courage to fire a therapist because you know that they are not helping your child.
It takes courage to open the door to your house and let the social service agency worker come in when you have no idea how they will judge your house, your parenting style, your kids . . . .
We expect, we demand courage from the children and youth we serve, from the families that care for them and from the professionals that serve them in ways both large and small and sometimes we don't even realize how much courage it takes just to get through the day.
A week ago, Senator Cory Booker shared an African proverb at a political convention. Funny, I don't think he knew I had planned to share it with you today, but hey, great minds think alike – right? He said, In Africa we having a saying, 'If you want to go fast, go alone. If you want to go far, go together.' If you want to go fast, go alone. If you want to go far, go together.
Friends, family, fellow advocates for children – we want to go far.
We want our children to go far. We have HIGH HOPES for health, healing, wholeness and happiness for ourselves and every child we care about. And the only way we are able to do that is if we go together. You are not alone. Do not try this journey alone. We only come out standing at the end of the day when we take this journey together.
The Bible has another way of saying a similar sentiment, in Proverbs it say- Though one may be overpowered, two can defend themselves. A cord of three strands is not quickly broken.
A cord of THREE strands – a cord of three strands is called a braid. We need to knit and weave and braid ourselves together in order to be the strongest cord, the unbreakable cord that carries us and sustains us through the everyday challenges as well as life's BIG crises.
We need others as mentors, guides and companions. We need their leadership, expertise, experience and fellowship. That is essentially what post-adoption services are about. Ensuring that every parent, every caregiver and every youth has their cord of three strands. And we need a full array of services - Peer-to-peer mentors, support groups, information and referral, quality training, education and therapeutic options, respite care, treatment programs – the full array.
Each of those types of services or supports are strands, strands that when braided together form the cord from which families can draw the strength, wisdom and courage to continue walking the path with their children. We can't go it alone because we were not designed that way.
Brene Brown says, "We are hard-wired for connection. There is no arguing with bio-science…Connection, along with love and belonging, is why we are here, and it is what gives purpose and meaning to our lives."
Trauma experts talk not about the cord of three strands but about the three pillars of trauma-informed care – safety, emotional regulation and connection. Parents and children need all three of these crucial pillars, which in turn, form the foundation for increased resilience and well-being.
I want you to reflect for a moment on a favorite memory – a simple memory – maybe a spring day, a walk, a delicious meal, shared laughter. As your favorite memories come to mind, notice who you are with. Who are the people that have been and continue to be there for you in good times, once-in-a-lifetime moments and mundane events of everyday life?
Some memories are sad. Tears may flow. Let them come. Notice, again, who is with you? Who has been there to share your tears, understand your sorrows?
Think about a time you asked for help. Who did you call? If you needed to call someone for help today – who would it be? Who will you call when you need advice, help with a child or aging parent, a health issue?
Remember a time when you were the one reaching out, lending an ear, a shoulder, or a hand to a loved one in need.
You are part of many circles of support, giving at times, receiving at other times. Repeat this exercise from time to time, reflecting on those who make up your circles of support. Savor and value the consistent and lasting relationships in your life. Help your child to create and value their own circle of connections the people that affirm for them that they are loved, supported and cared for over time.
One of my own favorite childhood memories takes me back to the character and movie scene I quoted for you at the beginning of my talk. The Wizard of Oz. Back then we didn't have 24-7 Television, Netflix or the internet. If you wanted to watch a show, you had to plan your time around watching it when it actually came on. So it was a big event we looked forward to every year – that special night when the Wizard of Oz would come on TV. You watched it with your own family, but you knew all your friends were watching it too. It was a shared, communal experience.
Today – when we can get instant access to everything, we need to remember the value of those shared, communal events. We need to provide ourselves, our families and our children opportunities to see and viscerally feel that they are not alone.
WE are not alone. I am not alone. YOU are not alone.
We are ALL in this together, we are stronger together, we will go farther when we go together. We have more courage when we share little bits and pieces we do have with one another.
The so-called cowardly lion learned that he had all the courage he needed through his relationship with others – through walking a scary path and completing a difficult journey with Dorothy, the Tin Man and the Scarecrow – he both gave and received courage. He stepped out and acted with bravery even when he didn't know if he had any. And at the end of the movie, the Wizard didn't need to give him courage, the wizard only had to give him a medal of honor to affirm and validate the courage that was already within him.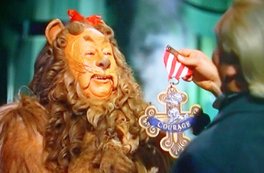 The medal read: "For meritorious conduct, extraordinary valor, conspicuous bravery against wicked witches I award you the triple cross – you are now a member of the legion of courage"
Remember - "You are not alone. You can do this. Let's be brave together."
THANK YOU