Both personally and professionally, I live in a world of hurting children. I live and work with children who have been abused, neglected, thrown away, rejected and traumatized—and with the adults in their lives.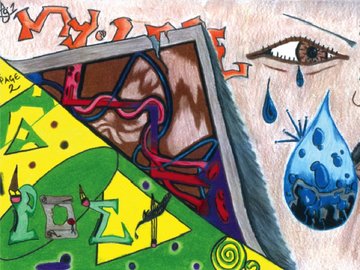 *

Last week two particular news stories about traumatized children stuck with me, invading not only my waking moments, but disturbing my sleep as well. I carried the weight of them with me as I entered church on Sunday, ready to be uplifted.
Our pastor is doing a summer series on the Sermon on the Mount and this week's passage was the one about loving our enemies. She started by tossing these questions out to the congregation:
"Who are your enemies?" and
"Who do you hate?"
She let those questions sit with us for several long, uncomfortable moments. I heard two ladies behind me whisper to one another, "I don't have any enemies."
In my experience, most of us tend to have two thoughts about enemies. One, like those two ladies is, "I don't have any enemies."
The second is that our enemies are some large group of "others" with labels like "terrorists," "gang-members" or "evil-doers."** People with no names, no humanity – deserving of punishment and perhaps annihilation.
Yet it was while we sat in that awkward silence that the two news stories renewed their hold on my mind and heart. The first was the story of Davion Only,*** a teen who has spent his entire life in foster care wanting nothing so much as a family of his own. It seemed a family had been found for him, but this past week, they "sent him back." One headline read "St Pete Foster Child's Dream of a Family Ends."
The second was the vivid image of adults protesting – with loud screaming and menacing-looking faces – a bus filled with children en route to an immigration processing facility.
I know that the issues related to foster-care reform and immigration-reform are complex with good-hearted people on all sides and genuine anguish as to how to solve these challenges in ways that are humane, compassionate and sustainable within the economic and political realities of our nation and world.
I believe people can have very different political views and still share this notion: it is never OK for an adult to abuse, harm, terrorize or traumatize a child.
But I am not writing this blog today to make political commentaries. I am writing because in both of these stories, children were deeply traumatized and my heart is aching for them.
And in that moment, in my seat at church, I realized who my enemies are. Not strangers in strange lands, but anyone who will hurt a child.
Whether it is yet another adult in the foster care world who dashes a child's dream of a family to belong to, or angry citizens using their right of free speech to terrorize already traumatized children on a bus.
These are my enemies.
Gulp.
These are the ones I am told to love.
Can I love these enemies?
Can I love a young mother, who, in the midst of post-partum depression and the hazy fog of post-childbirth sleeplessness shakes her baby until his little brain is permanently damaged?
Can I love the father whose addiction to alcohol or drugs allows him to justify leaving his baby strapped into a hot car while he goes into the bar?
Can I love an adult who backs out of a commitment made to adopt and love a child for a lifetime?
Can I love parents who, fearful of drug cartels, gangs and poverty send their child—alone—across thousands of miles of treacherous terrain in hopes of a better life?
Can I love the protestors who hurl angry invectives at these same vulnerable children?
Can I love a "pimp" who preys on vulnerable young girls desperate for love and affection and sells them into sexual slavery?
Can I love parents who throw their own son or daughter out into the wilderness of the streets because of his or her gender expression or sexual orientation?
Can I love myself when I turn my back on a child or when I am too impatient and harsh in my interactions with a child?
(Yes. I can be my own enemy sometimes too.)  
In the world I inhabit, the world filled with hurting and traumatized children, people often speak of "breaking the cycle" — the cycle of violence, abuse, neglect, trauma.
How will we ever really break that cycle until we can honestly say, "I will love my enemy with a genuine and active love."
What would that look like?
The passage about loving our enemies (in Matthew 5) concludes by saying, "If you love those who love you, what reward will you get? . . . And if you greet only your own people, what are you doing more than others?"
Just a few pages later, Matthew wrote these words, (in chapter 19) "Let the children alone, and do not hinder them from coming to Me; for the kingdom of heaven belongs to such as these."
When we hold anger and hatred towards our enemies, even smug, self-righteous, seemingly justified anger, are we not hindering the children?
I need to work on loving my enemies today.
What about you?
___
*Artwork by Ronald, age 18, created out of his experience in Foster care and contributed to the publication, "My Life, My Voice, My Future" published in 2006, by "Home at Last," a project of the Children's Law Center of Los Angeles
** For an earlier post on the topic of "monsters" click here.
*** For an earlier post about Davion Only, click here