Late March is a particularly wonderful time for sports fans.
First there is the collegiate basketball extravaganza known fondly as "March Madness." Nothing better than college hoops for drama, excitement, and loads of Cinderella stories.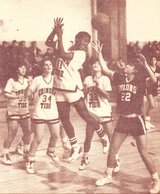 At the same time Spring Training is underway for baseball. Whether it is excited children getting their new glove for Little League, or the professionals returning from a winter hiatus often marked by surgeries, there is an air of newness and possibility that surrounds the activities building toward opening day.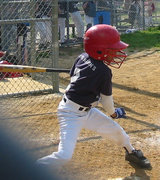 While not every child will be interested in or capable of playing sports and not every parent will decide that committing to seemingly endless practices and games is on their priority list, there are definitely life lessons from team sports that apply to parenting all children and particularly those with special needs.
I have 4 examples to share – I'll post 2 today and you can stop back tomorrow for 2 more!
1. The team is bigger than it looks from the stands.
Not every player is on the court, field, rink or track at the same time. And yet each person who is part of the team – from starters to substitutes; from coaches to water-boys/girls; from referees to fans – each person plays a vital role in the overall success of the team.
So it is with parenting, particularly if you are caring for a child with special needs. It does take a village – or in this analogy a TEAM – to meet all the needs of the child. And the child's team needs to be bigger than it looks at any one moment. Not every person who is part of the child's team will be present and visible in all situations, yet all play a vital role and the child's well being depends on each team member being ready, willing and able to play their role well.
For children the team members in addition to parents will often include siblings, grandparents and other extended family, teachers, pastors, doctors and nurses, counselors and therapists, coaches, neighbors and friends.
As you recruit candidates for your child's team, consider these questions:  
WHO do I need to help keep my child safe? 
WHO will help my child grow strong and healthy in mind, body and spirit? 
WHO shares my values and will help me to pass them on to my child? 
WHO will give me needed breaks? 
WHO will help my child explore, be creative and take risks? 
Don't limit your vision of the team to only those you can see on the "field of play" at any given moment. Our children's lives are richer, safer and more satisfying as a result of the many teammates we have cultivated over the years.
2. You play like you practice.
This was a truism my husband's hockey coach often drilled into the minds of the young players when they were getting sloppy or lazy during practice. You are not likely to do any better on game day than you demonstrate during practice sessions.
So it is worth the energy and effort to put your best self into every practice session.
For parents, this means equipping our children to not only survive but to thrive in real life by having high expectations for them at home – even the child with significant special needs.
Children should begin learning the skills that will equip them for living independently at an early age – from managing their own hygiene, self-care and laundry, to handling basic household chores including operating equipment like washing machines and lawnmowers; to being responsible for managing their own money and time effectively.
Don't be tempted to do everything for your child because it is quicker, easier or gets better results. And don't allow your child to be sloppy or lazy as they learn to master important life skills.
We have children with significant special needs who, as adults, are able to live independently in their own apartments, cook their own meals, navigate the city of Philadelphia and contribute to the community in which they live. In short, they play like they practiced at home. The hard work during practice is paying off.
Come back tomorrow and I'll add two more examples!
Thanks and I'd love your feedback – what lessons have YOU learned from team sports that support good parenting?