There is just something about the power of homemade soup– don't you agree?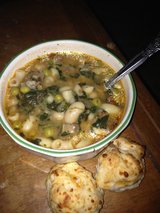 While "chicken soup" is an almost universal symbol of comfort food, nearly every culture has their own version of a warm, comforting dish that expresses being loved and cared for – whether it is Pho, or Matzo Ball Soup, Egg Drop Soup or Oxtail soup, Borscht, Pea Soup, Posole or Clam Chowda (and yes, that IS spelled correctly!) grandmothers everywhere know that a steaming bowl of homemade soup can cure everything from the flu to a broken heart.
And the best soups are made without a recipe. Handed down from one generation to the next. Small children sitting on stools in the kitchen, watching – and "helping" - their Nanna, or Abuelita, Mamere or Tutu chop vegetables and toss in a "pinch" of salt or a "handful" of fresh peas.
Teenagers coming in the door and immediately being drawn to the kitchen by the seductive smell of simmering soup become more open to sharing about their day as they sample a fragrant spoonful.
Soup heals, brings people together and creates memories. One of my children's favorite memories of their own "Mamere" is the question she asked every time they visited, "You want some soup?"
This week, I made my homemade pasta fagioli. From scratch and from memory. The way my grandmother and mother made it. Friends have asked for the recipe, so I did my best to write it down. I hope you enjoy it, and I hope you'll make your own soup-memories this winter! Please share your recipes - I am always looking for new ways to enjoy soup!
"It is better to eat soup with someone you love than steak with someone you hate." Proverbs 15:15 (Living Bible)
NANNA'S HOMEMADE PASTA FAGIOLI
INGREDIENTS
Olive oil
OPTIONAL: Pancetta, Bacon, Salt Pork or a half pound of ground beef
1 onion, diced
About 10 mushrooms, sliced
2 stalks of celery diced – you can also dice a carrot or two
2 cloves garlic, minced
1 (29 ounce) can diced tomatoes – or you can also use a can of Progresso Hearty Tomato soup
2 quarts homemade vegetable, beef or chicken stock or in a pinch you can use canned broth or in a real pinch you can use water and bouillon cubes
About half a cup of homemade (or in a pinch, canned) gravy or roux
1 15 ounce can cannellini beans 1 15 ounce can garbanzo beans (Sometimes I substitute any other kind of beans, and sometimes I have leftover home-cooked beans instead of canned)
1 box frozen chopped spinach
1 box frozen baby peas
1 pound pasta – I usually use elbows but you can use any smallish pasta
Seasonings – oregano, basil, rosemary, parsley, thyme, salt, pepper
Fresh grated parmesan cheese
DIRECTIONS
1. In a large soup pot, IF using any of the meat options, brown up the meat. When it is about half done, add the garlic, onion, celery and mushrooms (and carrots if using) and sauté with the meat. Add olive oil as needed depending on how much fat is in the meat. If not using meat, just sauté the onions, celery, carrots, garlic and mushrooms in a little olive oil until onions are translucent and carrots are slightly softened
2. Add all of the other ingredients -  including seasonings -  except for the pasta, frozen veggies and parmesan cheese and simmer for up to 2 hours
3. 10-12 minutes before you want to serve, add the pasta and the frozen veggies (some people cook the pasta separately, but I don't)
4. Dish out into bowls and top with Parmesan cheese and serve with homemade cheese biscuits or crusty Italian bread. YUM!