This week, while struggling to concentrate on a writing project, I took a break and checked in on Facebook.
While there, this story caught my eye and it has been haunting me ever since. http://madamenoire.com/119071/dead-3-years-and-no-one-notices-film-explores-the-life-and-death-of-joyce-vincent/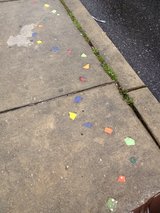 Joyce Vincent died and no one noticed for 3 years.
Some have posted questions such as "Why didn't the smell tip the neighbors off?" or "Why didn't the electric company investigate when the bills weren't being paid?"
Valid questions.
And yet, not the heart of the story. For even if she had been "discovered" after a neighbor reported a bad smell, or a utility company launched an investigation, it will still be hauntingly, unspeakably sad. Sad that she was so alone in her life that no one checked on her or tried to re-connect with her for 3 years. No one that knew her and cared about her. No one that knew her name and her history.
How many others are there – perhaps even in our midst – with no meaningful connections? This young woman was not a recluse, hermit or loner. People who knew her and were interviewed later said she was vivacious, social, talented, outgoing.
And yet, invisible. Alone.
Alone in a city of 8 million people. Alone in a world of 7 billion people.
Earlier this year, our neighbor died. We were devastated to learn that she had been lying, dead, for perhaps 2-3 days before her daughter came to visit and discovered her. My husband saw her and spoke to her on what we now know may have been the last day of her life. It pained us to imagine her alone for those 2-3 days.
And yet, she was loved and she was connected. To a family – a permanent, lasting family. And so 2-3 days did not turn into 2-3 years. She was missed. Her daughter came to call.
Over the years, my husband and I have been foster parents to more than 50 youth beyond those that we adopted. Many of these young people went on to be adopted by other families, most returned home to members of their birth families. Some "transitioned into adulthood" with no family to call their own. A good number have stayed in touch.
But we also lost touch with several – Art, Billy, Sean, Robbie, Roger . . . . where are you now? I pray that you are not as alone and invisible as Joyce Vincent was.
Joyce's story propels me to use the power of social media and other technology to try to find our "lost boys" and re-connect.
But it also compels me to re-double my efforts to ensure that no child ever leaves foster care without a family for a lifetime.
Joyce Vincent was not a former foster youth as far as we know, although her mother died when she was only 11, probably leaving a wake of childhood grief, loss, perhaps trauma. She did have sisters who we later learn spent time looking for her.
And yet . . .
The most haunting line of the article linked above was uttered by a former colleague of Joyce who showed the filmmaker the building where Joyce lived, and eventually died. Pointing up to the window of her apartment, the woman said, "I suppose, in a way, we all walked by."
Who will I walk by today?
Who will you walk by?
Is there someone in your life, your family, neighborhood or community who is alone and invisible?
Another blogger described her reaction to the story this way: "All those hours reading about Joyce had really gotten to me, 

And I suspect that reaction will probably be the legacy of Ms. Vincent; she's a reminder to all of us… to stay connected to those we love." http://bluecentric.com/?p=39430 
Indeed. Stay connected.
And make sure that every child has someone to be connected to. For a lifetime. Even in the hour of death.
"My heart has been smitten like grass and has withered away,
Indeed, I forget to eat my bread. I lie awake, 
I have become like a lonely bird on a housetop." (Psalm 102, excerpts)
Being lonely is a terrible thing. Yes, God comforts the lonely, but it is a cop-out to say that and then continue to "walk on by". For who has God's arms for hugging? Ears for listening? Voice for saying, "How are you today?  I care."
Is it not you and I?