Advent is here!
I am so excited about the season of Advent – in spite of the hustle and bustle; I plan to take time each day to be still, to reflect, to wait . . . .
Which is a whole lot different than what I did in November. I was on the road a total of 23 days in November. I was speaking to audiences in 12 different cities (and states) on many of those days and in transit by planes, trains and automobiles the rest of the time.
In Georgia I was deeply touched by the depth of love group home staff have for the teens in their care and for their desire to help each and every one of them have a family for a lifetime.
In DC, when I shared my analogy about "building bridges of hope," I was given a new nugget to add to it by a young man who grew up in foster care. He said when you see a person drowning, you rescue them and then you provide CPR. For children who have experienced trauma, this means, "C = connections, P = patience and R = resilience." (Thanks to Faison for that nugget of wisdom!)
In Oklahoma I was reminded of the heavy toll working with trauma survivors day after day takes on the workers – they too, need hope and rest.
In New Orleans I was surrounded by people with boundless passion fighting at times insurmountable odds to ensure that the American dream of "justice for all" applies truly to ALL, most especially to wounded children being held in chains and behind bars when what they need most are opportunities for healing, hope and acceptance within their communities.
This is just a small taste of my road trip . . . every day brought new insights, fresh ways to look at challenges and most importantly a glimpse into the faces and hearts of the amazingly diverse range of people that God put in my path. I will savor all that I gleaned from them and those reflections will fill the pages of this blog in the weeks and months ahead.

So that explains why I was a little bit "MIA" on my blog, but I was busy being interviewed and featured on other blogs, radio programs and TV shows throughout November. In case you missed them, the links to several of these pieces are below. I will be sharing more of my own heart and reflections with you in December.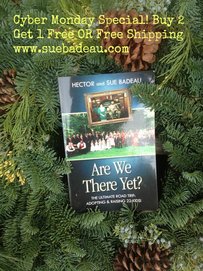 And of course, since today is "Cyber-Monday" I do hope you will consider sharing our book with your family and friends as a gift during this season of giving. I am even offering a Cyber-Monday special. Visit my store http://suebadeau.webs.com/apps/webstore/ and check it out. Thanks!
Whatever you are doing today - be sure to take a moment to slow down, light one candle, and reflect on this question, "What am I waiting for . . . . ."
I'll share my thoughts on that question in the next post - stay tuned . . .
Article in Bookfun Magazine http://www.bookfunmagazine.com/i/203676 (see page 32 and following)
Interview on Kathy Collard Miller's Blog http://www.kathycollardmiller.blogspot.com/2013/11/book-give-away-are-we-there-yet.html
TV Interview on Heritage of Truth http://heritageoftruth.com/archives/2501
Review on Miriam Jones Bradley's blog  http://miriamjonesbradley.wordpress.com/2013/11/17/imperfect-people-doing-what-a-perfect-god-asked/
Interview on Vonda Skelton's blog http://www.vondaskelton.com/2013/11/28/interview-book-give-away-with-sue-badeau-mother-of-22-kids/