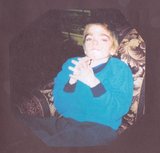 Adam's Birthday Message (and Eulogy) 
I originally wrote this in October 1999 for Adam's 11th birthday, not knowing that a mere two months later we would be saying goodbye to our precious son.  This piece was read at his funeral service and later adapted and excerpted in our book, "Are We There Yet? The Ultimate Road Trip Adopting and Raising 22 Kids" published September 2013
Adam is not generally a pleasant child. Nor is he particularly happy much of the time. Adam was born with the same rare genetic disease as Wayne: San Filipo Syndrome. And he has all of the same medical symptoms. But Adam's early years (he was six when we adopted him) were erratic, with some time spent in the care of his birth mom who suffered from alcoholism, and other times being shuttled between relatives and foster homes. In at least a couple of those settings he experienced abuse, neglect and along the way ingested a fair amount of lead paint.
Adam rarely smiles. In the five years he has been part of our family, we have probably "caught" him smiling with a camera no more than five times. He does not snuggle, or even like to be hugged. He often flinches when approached. His body has become increasingly stiff, and his movements are sharp and flailing. He does not speak, his verbal utterances are more often cries or moans than contented sounds or laughter.
Adam gets sick a lot too. He has been in the hospital a couple of times. He has frequent colds, miserable ear infections and sometimes just seems to be in pain stomach cramps or gas pains maybe? He acts like a colicy infant a lot of the time. Today is his eleventh birthday.
Adam life expectancy is between 8 and 15 years.   A couple weeks ago, I wrote about Wayne, on his birthday. About how pleasant and happy he is. A delight to parent. A child who really teaches us about the value of enjoying life. I began by repeating the question we are often asked, "Why would anyone adopt a child who is just going to die?" and after describing Wayne, I am sure that everyone reading it understood why we would want Wayne in our family.
But what of Adam? Why would any parents adopt a cranky, unpleasant, stiff, unaffectionate, sickly, unsmiling child who is just going to die?
Adam sat beside me in his "bean bag chair" and for a few moments he looked content.   I held his hand and patted it, talking softly to him (yes, I know he can't hear, but I still talk to him anyway!)
Some people think we would adopt a child like Adam out of altruism. Because we are "good" and "loving" people who genuinely care about kids. Because we believe that it is better for him to spend his short life being loved by a family than with multiple caretakers in an institution. Perhaps there is some truth to that. But that can't be all there is. If it were, caretakers is all we would be not really parents.
We love Adam. We love him as our child. I spent countless sleepless nights, fearful that he may die, the first time he was in the hospital. Hard as he is to like at times, difficult as he can be to care for at times, we truly love him. While Wayne teaches us about the "joie de vive", Adam teaches us other lessons altogether.
Adam forces me to look at myself. How loveable am I? Am I always pleasant to be around? Do I always have a smile or a kind word or a hug ready? Do I want my value as a person determined by some scale that measures "loveableness" or "pleasantness"?
To God, to my husband, children, family members or friends, I'll just bet there are times when I can seem as cranky, unpleasant and difficult as Adam does. And there are times when each of them can seem that way to me too. How loveable are we anyway? So often we are too much in a hurry to stop and be kind. We are often self-absorbed, or self-centered "boastful, challenging one another, envying one another . . . consumed by enmities, strife, jealousy, outbursts of anger, disputes, dissensions, factions, drunkenness, carousing, and things like these."* (see Gal 5:19‑26).
OK, so I try to be better than this, I really do. And I am sure you do too! And yet, while I am still in this state this very human state of being less than perfect I am still loved. That is so awesome! That is the miracle of love! My husband loves me! My children love me! My God loves me! It is nothing short of amazing.
And we still love Adam. He has value as a person. As our son. He is unique and not like any other person not one of our other children, not even Wayne with whom he share a disease, nor Aaron, with whom he shares bloodlines. He is precious and priceless and unique and loveable.
Adam is not a pleasant child. But he is, indeed, loveable. And loving him helps keep me grounded in the reality of what it really means to love and to be loved. So, I am thankful that we did decide to adopt and parent this cranky, sickly, unsmiling child.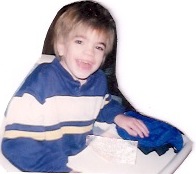 And when he does smile its like a sun rise and a rainbow and a fresh spring breeze, all at once!
Happy Birthday Adam! We love you so much!  - To see more photos of Adam, put to music by our dear friend Brenda Romanchik, visit http://bit.ly/Oo6QLW