Today, while walking in my neighborhood, a bright purple blossom caught my eye.
I stopped to admire it, and noticed that on the very same flowering bush, there were blossoms in every stage of development.
Tightly wound buds nowhere near ready to open.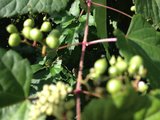 Fragile, newly opening buds just beginning to reveal their colors.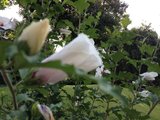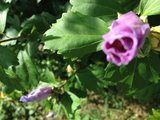 Nearly-opened blossoms, still a bit wrinkly and unsure of themselves.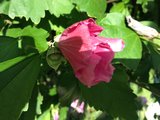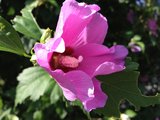 Vibrant, boldly self-assured blooming flowers garnering most of the attention.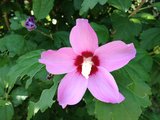 Fading, shaking flowers, beginning to slip from glory.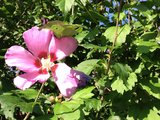 Dry, withered dying petals still clinging to the vine.
Bright, sturdy nourishing green leaves.
Crackly, lacy, moth-eaten leaves.
Branches, trunk, roots unseen.
Altogether in one plant. In one place. The circle of life.
We know – intuitively - we understand that children are progressing through developmental stages as they go from crawling to walking to running – from babyhood, to toddlerhood to adolescence.
We forget, at times, that adults are still developing too. None of us are finished yet.
The last page of the story is not written yet for you – or for me – or for anyone we see - as long as a person is still attached to that circle of life – development is happening.
The movement from the bud to the blossom is not the end. Just as the parts of this one plant are in many stages of development, so too are the parts of one family, one community, all in different stages of development.
We don't all progress in the same way or at the same pace.
Yet we nourish one another by our presence.
Be kind. Be patient.
That troubled teen you see? The young mom struggling to hold it together? The seemingly lazy man on a corner instead of on a job? The one who looks too polished to be real. .. The one who seems to have it all together. .. The one who seems to have lost her way. ..None of them are finished.
We nourish one another by our presence.
It's the Circle of Life
And it moves us all
Through despair and hope
Through faith and love
Till we find our place*
We each have a place on the circle. On the circle of this earth. In the circle of our family. In the circle of community. In the circle of faith.
Young and old. Hearty and frail.
No one is complete – we are all developing, we are all still on the path, we are all still moving and changing.
For everything there is a season . . . . . A time to cry and a time to laugh.
 A time to grieve and a time to dance.** 
And a time to bloom.
*Writer(s): Tim Rice, Elton John Copyright: Wonderland Music Co. Inc.
**Ecclesiastes 3 excerpt