Perfect Soup for Lent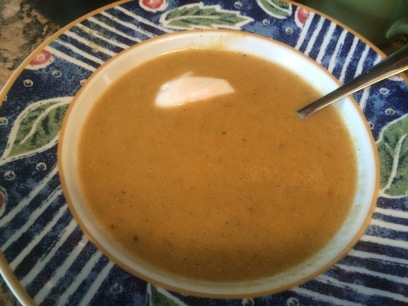 So, I have only used my blog to post a recipe one or two times in the past, but today I could not resist.  When Hector and I were first married, we loved broccoli-leek soup and I have made variations of it over the years.  But they all used chicken stock as the base and included milk (cream).  Now that it is Lent, and I am eating a totally vegan diet (Daniel Fast) I wanted to experiment and create a vegan version.  
Oooooh laaaa laaaa - it is to die for if I do say so myself, so I just had to share!
It is my turn to make the soup for our church "bread and broth" shared Wednesday night meals, so the recipe below makes enough for a crowd.  But I am sure it will freeze well if you want to make a big batch and then freeze some for quick meals on hectic days.  Anway - I do hope you will try it and send me your thoughts!
The star of this recipe is really the homemade curry powder.  I use equal parts coriander, tumeric, chili powder, cumin and about half as much cardamom, cinnamon, fenugreek and cayenne. Then a dash of ground cloves and black pepper.  You can also find lots of homemade curry powder recipes online or use a commercial blend.
Here are the rest of the ingredients: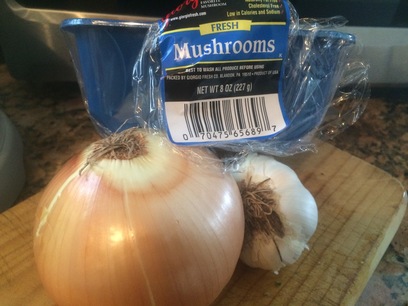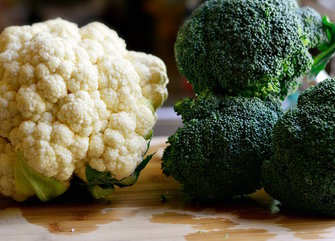 1 large onion, diced
3-4 cloves of garlic, diced and crushed with the back of your knife
3 TBSP olive oil
8-10 large mushrooms, sliced
1 TBSP salt
1 TBSP Adobo seasoning
2  tsp each black pepper, oregano, thyme, parsley, garam masala and red pepper flakes
6 cups vegan broth
2-3 cups water
1 large head of broccoli, chopped
1 large head of cauliflower, chopped
2 large carrots chopped
1 cup leftover mashed potatoes
1 16-ounce can coconut milk
1 16 ounce can condensed tomato soup
Coconut-milk plain yogurt for garnish (optional)
Directions:
1. Heat olive oil in large soup pot, then add onion, garlic and mushrooms, stir for several minutes until mushrooms are softened and onions are golden
2. Add 2 TBSP curry powder and all other seasonings, stir until veggies are coated with seasonings
3. Add broth, broccoli, cauliflower and carrots, bring to a boil
4. Once it is boiling, reduce to a simmer and simmer for about 30 minutes until veggies are fork-soft
5. Add mashed potatoes and stir thoroughly
6. Turn off heat and allow to cool for 15-20 minutes
7. Add coconut milk and condensed soup, allow to cool for another 30 minutes
8. In small batches, blend soup in blender or food processer until smooth and velvety
9. Reheat and Serve with a dollop of coconut milk yogurt as a garnish (if desired)