We Didn't Start the Fire (with apologies to Billy Joel)
Just before my mother was diagnosed with leukemia in 2004 she was on a vacation with her husband and came down with the famous "flu-like symptoms." Thankfully, her doctors did not simply treat her for the flu but they dug deeper to find the true cause of her symptoms. Because of their persistence we had one year longer with my mother than we may otherwise have had.
Digging for root causes is not a frivolous exercise, it is absolutely necessary for healing. And this relates to my feelings in the wake of the Grand Jury decision in Ferguson, MO this week.
"We didn't start the fire . . . . " This song has been the soundtrack in my mind today as the images the media chooses to portray from last night in Ferguson replay on an endless loop in my brain.
The shooting of Michael Brown (which I wrote about here ) and the aftermath provided many open doors and opportunities for dialogue, close examination of our own hearts, and healing of wounds. Throughout the country, people engaged in these conversations.
Yet in the media and social-media feeding frenzy, very few of these moments commanded center stage, certainly none to the same degree as the rioting, looting and fire-setting that clearly make more riveting and searing images for TV and social media outlets.
So, while there are many other lessons to be learned and important conversations to be had related to justice, injustice, racism, race relations, and living out one's faith in a broken world I would like to take a moment to say a few words about the fires.
I will begin by saying that I do not condone or support looting, rioting or fire setting in any situation.
I do, however, sometimes understand where it comes from. In other words, the roots.
And understanding the root causes is as necessary for our collective national healing as they were for my mother's leukemia.
In many cases, and, I would suggest in the Ferguson case in particular, this response – by a few – is the raw communal reaction to a trauma trigger – ( I wrote about trauma triggers here and here ;).
In my previous writings, I have talked about individual responses to individual histories of trauma.
Today, I want to focus on Historic Trauma, which is not individual but impacts entire communities.
Dr. Maria Yellow Horse Brave Heart first identified and defined historic trauma this way: Historic trauma is the "collective and cumulative emotional wounding across generations that results from massive cataclysmic events. The trauma is held personally and transmitted over generations. Thus, even family members who have not directly experienced the trauma can feel the effects of the event generations later. "
She furthers notes that understanding Historic Trauma is "not about dredging up and staying stuck in the past. It's about starting a healing process to let go of that past collective trauma, and moving forward."
Since she began writing about this, the science has caught up and we now know that persons impacted by these "massive cataclysmic events" are impacted physiologically as well as emotionally and that the wounding does, indeed, pass down across generations.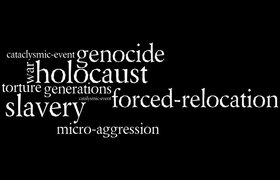 Massive.
Cataclysmic.
Events.
Just a few of these massive cataclysmic events in recent human history include the Holocaust, genocides in Rwanda and Sudan, the internment of Japanese Americans, the forced relocation of Native Americans onto "reservations" and yes, slavery of African Americans. There are many more examples from around the globe and across time. Certainly the continuing wars raging in the Middle East have at their roots some massive cataclysmic events that date back to the beginning of human history.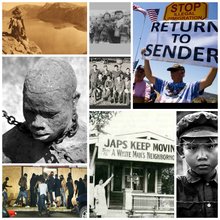 When an individual experiences a trauma trigger, he or she might explode, melt down, rage, cry or act in ways that are intense and irrational. It is therefore not surprising that small group of people in a larger community, when experiencing a trauma trigger, may collectively react in similar ways.
What is surprising to me is that given our fallen nature and our broken world these explosions don't happen even more often.
We all benefit from the grace that prevents us from completely self-destructing as a human race.
While many distance themselves from those who riot and start fires, calling them "animals" and worse, this does nothing to address the root causes or to promote healing.
Punitive actions, anger or meeting rage with more rage rarely help a traumatized child or individual heal.
Neither will such responses help a community – or a nation - to heal.
As the fires rage around us and within us, if we begin to understand the impact of historic trauma in our communities, nation and world, we can begin to do the deeper digging necessary to get to the roots of the wounds and create healing environments that extend grace to all.
In short, we can learn how to love everyone, even those who are exploding and burning. (For more of my reflections on loving "monsters" – see these past posts here and here ;).
We didn't start the fire . . . but at one time or another we've all thrown a log on to keep it burning.
Its time for a new approach.
References:
https://www.youtube.com/watch?v=m50p-XScreM" target="_blank">Billy Joel - 
Maria Yellow Horse Brave Heart