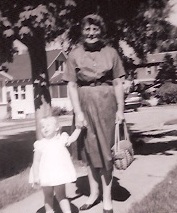 When I was in the sixth grade in my hometown of Barre, Vermont, my grandmother came to live with our family. My mom and dad both worked and it was my job to come home for lunch and check on "Mamie." I'll never forget the time I walked into the house to find her in the kitchen, tears in her eyes, jelly smeared everywhere and three burners on the stove glowing bright red. My poor Mamie looked terribly confused and sad. She did not recognize me in that moment.
It wasn't long after that when my parents decided she needed the safer environment of a nursing home. This was my introduction to the challenges and emotional intensity of caring for a loved one who has Alzheimers, Dementia or other debilitating conditions.
The little meme "Keep Calm and Carry-on" has exploded across the internet with a million variations. In honor of National Alzheimer's Awareness and Caregivers Month, I propose a version of this meme for caregivers – those who care for family members, friends or others with Alzheimers or other special care needs. "Keep C.A.L.M. and Care-On"
Caregivers always want to put others first. As I wrote in a previous blog post about self care , "it's in our DNA." When the pressing needs and demands of a parent with Alzheimers or a child with complex physical or mental illnesses surround us, how can we possibly slow down long enough to engage in self-care?
Perhaps this mnemonic device will help.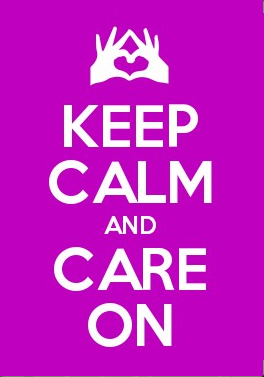 Keep C.A.L.M. in order to "care-on."  (tweet this)

C = Connected
A = Alleviate Stress
L = Laugh Often
M = Mindful
First, keep CONNECTED. Remain in community with others, peers with whom you can share mutual support. Invite others into your life who will come alongside you when you are facing exhaustion or burn-out.
Years ago, I frequently had to travel by myself far from home in an old van that had many issues. Being temporarily stranded on the side of the road became a familiar and all-too-common experience. I carried a tool-kit filled with supplies including jumper cables. But I quickly learned that my jumper cables were useless when I had a dead battery until someone else came along – someone whose battery was not dead. Someone willing to let me hook my cables to their working battery so that new energy could flow into mine.
We can have all the know-how and tools in the world, but when we face those "dead-battery" moments in our caregiving experience our tools and know-how are as useless as jumper cables unless and until we connect to someone whose battery has a little more juice than ours.
Stay connected.
And sometimes you can be that "live battery" for another caregiver. Hebrews 10:25 "not forsaking our own assembling together, as is the habit of some, but encouraging one another; and all the more as you see the day drawing near"
Second, keep ALLEVIATING STRESS in safe, healthy and comforting ways. Don't wait until you are ready to explode before finding a way to release a little stress. Develop quick, easy and inexpensive (or free) techniques to help you keep the stress level down to a tolerable and manageable level. Develop your own repertoire of prayers, meditations, songs, breathing techniques and activities to help you cope.
My husband was the primary caregiver in our family and we had several children with very severe and chronic special needs and medical conditions. He often practiced what I came to call "train therapy." When he was felt ready to blow a fuse, he'd ask me to take over and he'd go for a ride on our local train. For the price of a $3.00 ticket, he could take time to cool-down, de-stress, pray, reflect and come home refreshed and ready to tackle the caregiving challenges anew.
Stress-relief strategies are a bit like umbrellas. We don't need them all the time but they need to be available and handy when the storm strikes.
Isaiah 4:6 "There will be a shelter to give shade from the heat by day, and refuge and protection from the storm and the rain."
Third, keep LAUGHING. Laughter and play are key elements in a successful self-care strategy. Keep a small bag of marbles on hand and when you feel like you are totally "losing your marbles" get down on the floor and play. There's a good deal of research on the value of laughter and play for strengthening relationships and reducing stress. If you can play and laugh with the person you are caring for, even better.
Before my grandmother went to the nursing home, she had many days when she thought she was a child again and I was one of her childhood friends. One of her favorite activities was to "play dress-up." We'd put makeup on each other and fancy (costume) jewelry. We both ended up with lipstick in crazy places, but we laughed so hard we cried many times. If this had happened in 2014 instead of 1969 we probably would have taken silly selfies to capture these precious moments.
Psalm 126:2 "Then our mouth was filled with laughter And our tongue with joyful shouting" – Learn to laugh and regain your child-like joy in the everyday moments of life,
Finally, keep MINDFUL, stay in the present. While it is fine to savor memories, don't linger too long in the past and become discouraged that your loved one is no longer the same person he or she used to be. Don't let your mind wander too far into the terrifying "what-ifs" of the future.
Stay present in the present.
We had a son, Wayne, with a degenerative terminal illness. When he was a vibrant toddler, able to run and play with the other children, snatching food off other people's plates with a twinkle in his eye he was a total delight. Every now and then I would look at him and imagine the day he would die and I'd start to tear up. My wise husband would notice and say – "don't let the worries of tomorrow overtake the opportunity for joy today."
In later years, as his condition deteriorated and he was confined to his wheelchair and bed, he was still a delight. He had a smile and a laugh that could make your day brighter every time. And yet, it was easy to look at him lying in bed, hooked up to feeding tubes and remember the days when he could run and play. When flooded with those memories, it was hard not to feel pity for him and sadness for ourselves at the loss of the child he "used to be."
Thankfully, I learned to stay tuned-in to the present and savor the current moments with him rather than getting stuck in a weepy longing for the past.
Ecclesiastes 3:4 There is "A time to weep and a time to laugh; A time to mourn and a time to dance."
Keep some dancing shoes handy in your home to remind you to stay mindful and be present for this season, this time you have with your loved one right now.
So, Keep C.A.L.M. – connected, alleviating stress, laughing and mindful of the present – and "Care-on."
May you be blessed in your caregiving moments.