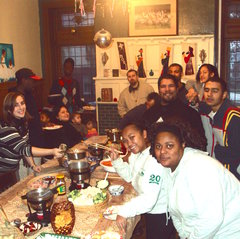 As the new school year gets underway and children and parents are often going in many different directions, how do you balance building a shared family identity with nurturing each child's uniqueness?
This exercise is a good place to start!
"If our family was a meal, the meal we would be is _______ because _______"
How would you fill in the blanks? Would you and each family member (adults and children) fill it in the same way or differently? Don't guess – try this at home!
I teach workshops for parents – biological, foster, adoptive and grandparents raising their grandchildren. I frequently use this exercise as an "ice-breaker;" it generates plenty of giggles, while nearly always producing meaningful "aha" moments.
Answers range from a "Happy Meal" to a "wedding feast." Here are illustrations of the four most common types of meals people associate with their family life:
1. One Plate, Multiple Items: Each item is distinct on the plate but the menu is designed so they all complement each other (i.e. chicken, broccoli, macaroni and cheese, or classic "meat and potatoes";). This is a family where everyone feels like they belong, but there is a lot of emphasis on individual differences, including both strengths and challenges.
2. One Dish: Everything is mixed together but the parts are still distinct, such as stew with chunks of meat, potatoes, carrots, a spaghetti and meatballs dish, tacos or chef salad. This family is equally focused on each individual and the "group."
3. "Melting Pot" Everything is melted or blended together. It's hard to tell where one ingredient leaves off and the next begins, such as lasagna, pizza or a blended soup. In this family the interests, values and identity of the group are emphasized more than those of the individual.
4. Potluck - All items are separate and not necessarily planned to go together but somehow it all works out – like a buffet, potluck or smorgasbord. A strong family identity may not be immediately apparent, individuality is prized and at the same time a newcomer may feel immediately welcome.
After you've tried this at home, reflect on what you learn. For example, if you define your family as a "beef stew" but your child is thinking "smorgasbord" and he is the banana, how might this impact his sense of belonging or self-esteem? Differing concepts of family and identity can occur in any family, but are more likely in blended families formed through step-parenting, foster care or adoption or multi-ethnic or multi-racial families.
Here are four strategies that we've used to nurture each individual child's uniqueness while fostering a strong foundation of family identity.
1. Celebrate uniqueness within the context of family: Every Sunday night at dinner our family members give each other "pats-on-the-back" – highlighting unique accomplishments or activities of each member. This allows each person to be recognized individually, but by doing it at family dinner it also reinforces our unity.
2. Give children a chance to use their uniqueness to benefit the family: Each child leads or organizes family activities, using their own strengths and creativity. For one this meant planning and cooking a meal, whereas for others it meant organizing a summer outing, or designing the artwork for the family Christmas card. Again, uniqueness shines and the family identity is strengthened.
3. Create opportunities for "planned spontaneity": Oxymoron? Sure, but works great for drawing out hidden talents. What does it mean? You, as the parent, set up circumstances that require family members to interact in new, "spontaneous" or unexpected ways. And then enjoy whatever happens next! If "family night" in your house is most often a board game, next week take a trip to a mountain trail instead. Plan "backwards" day with dinner for breakfast and breakfast for dinner. Take an unfamiliar route home from school, church or soccer practice.
4. Be intentional: Create a family coat-of-arms or flag. Use exercises like "If our family were a meal" (email me for a list of other options) to intentionally stimulate conversation about "what makes our family unique" and provide safe opportunities for each family member to express thoughts and ideas.
Oh, and our family meal? Fondue, definitely fondue.