Today I bring you a provocative guest blog post from the Author of a new installment on John Hancock in the series, "Declaration of Independence" published by Helping Hands Press. The author of this installment, Joseph Max Lewis, has served our country as a Green Beret and is now a lawyer.  More information about how to read his full blog and learn more about him is at the bottom.  He will also be featured on blogtalk radio tonight. 

Anyone who knows me and my views of how politics and my Christian faith intersect will immediately discover that Mr. Lewis and I do not always see eye to eye politically.  However, I think he raises some very fascinating and provocative questions about how to look at the events leading to the establishment of the USA as we now know it through the first-person eyes of some of the prominent individuals who were charged with making tough choices and carrying out momentous decisions in the face of challenging circumstances.  Whatever your politics, I think you will enjoy reading this book and challenge yourself with the question:
"What would I do if God placed me in similar situations?"
And now, an excerpt from Mr. Lewis:
Happy Fourth of July!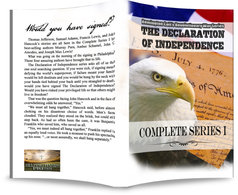 Imagine how the signers of The Declaration of Independence feel while looking down from heaven and listening to their critics. The thought never occurred to me until my publisher asked me to write a fictional short story relating how John Hancock experienced the 4th of July. Before starting, I read Herbert S. Allan's even-handed biography of Hancock. Yes, the Founders were all human - Hancock was vain and a clothes horse, for example. But when you study the founding of America from the perspective of a Founder, the greatness of these men staggers you.
"But they didn't free the slaves and women and blacks couldn't vote!"
Guess what? No one could meaningfully vote and everyone, everywhere, was in some form of bondage. The English themselves were "subjects." Except for royalty and a small number of men in a handful of tiny Greek city states, no one had ever controlled their destiny.
Writing in the first person forces you to see things through the eyes of the character or historic figure, to imagine what they felt, wanted and thought. The Founders were operating in uncharted waters, laying the foundation to free all mankind and making things up as they went. They were doing it while at war with the most powerful Empire on the face of the planet.
To continue reading, visit his website.
This is a column of opinion and satire. The author knows of no undisclosed facts. Contact Lewis, the author of John Hancock, in Remington Colt's Revolutionary War Series, visit him at josephmaxlewis.com and click on Rimersburg Rules. © Joseph M. Lewis
Here is the Amazon Kindle link to "John Hancock"

Click here to link to listen in on the blogtalk radio show with Joseph Max Lewis discussing his writing on John Hancock.