Yesterday, I wrote about 2 parenting lessons gained from team sports:
1. The team is bigger than it looks from the stands, and
2. You play like you practice
Today, I'd like to share 2 additional parenting tips gleaned from athletics.
3. Its matters not whether you win or lose, its how you play the game.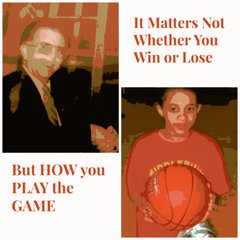 This quote, often attributed to Grantland Rice, is one I learned early and often from my own dad. For a quarter century, he was the director of the high school basketball tournaments for our state and he was known for greeting each and every starry-eyed high school athlete with a hearty welcoming handshake and this quote.
He wanted the players to have a great time, foster team spirit and sportsmanship and leave with memories that would last a lifetime.
He did not want them buckling under the "all or nothing" notion that winning is what matters first, last and most.
This is such an important lesson for all parents, particularly parents of children with special needs. It is too easy to get caught up in a frenzied competitive spirit from the day a child is born or enters the family – worrying about their grades, accomplishments and ultimately how successful they will be as adults. Parents compare notes on how early their child speaks, walks, and achieves other milestones. From day one, the race is on to see who can get into the best college and garner the most awards.
In this push to succeed at all costs, often the opportunity to nurture each child's unique spirit, personality and talents is lost.
In addition, little time is spent focusing on the development of character that will truly determine the quality of life the child will have no matter what the future has in store.
Yet the best coaches, the ones who continue coaching year after year know that the first secret to lasting success is to focus on ensuring that each player gets out there and plays. Try. Or as Nike would say, "Just do it. " It's in the messiness of actually playing, in sports and in life that strengths and talents are developed and character is built.
And the second secret is in focusing on the "how." The fundamentals of play. The essential skills. Sportsmanlike conduct. Teamwork. Nurturing these traits in both athletes and children is much more important than whetting an insatiable appetite for victory.
4. It isn't over till its over. (Never give up).
OK, so it's not all about winning, but sometimes winning is nice. Fun. Satisfying. 
Those who give up too soon never get the opportunity to experience this thrill. One of the best parts of the March Madness season is to see all the underdogs who surprise everyone and win a game or two, upending and upsetting the anticipated victors. Many times the outcome of the game is in question until the final moments, hence the term "buzzer beaters."
Part of our job as parents is to instill this "stick-to-it-ive-ness" into the hearts and minds of our children. When the odds seem to be stacked against you – keep going. When the road ahead is daunting and defeat seems to be at hand, push harder. When you do lose, learn from it so you can apply the lessons next time. And make sure there always IS a next time.
"Let us run with endurance the race that is set before us," Hebrews 12:1(b)