In a story that I relate in my book, "Are We There Yet? Adopting and Raising 22 Kids," our oldest daughter Lilly asks me, "How can I know that we can really trust you? What makes you different than all the other families who made promises to us and then let us down?" (p. 144).  
This conversation takes place very early in our relationship, we don't really know each other yet.  My answer boils down to this:  I am sticking with you no matter what.  Through a series of examples, I tell her that I will grow to love her and remain commited to her even when I really know her, no matter what.
Don't we all long for this unconditional acceptance?  Someone to love us, accept us, believe in us, root for us even when they really know us?  A young man who grew up in foster care and is now very successful once told me, "I feel like the little man behind the curtain in the Wizard of Oz, terrified that whenever someone pulls back the curtain and finds out who I really am, they won't want anything to do with me anymore."
This is one of the most important gifts we can give to a child who has experienced trauma - knowing who they are accepting them as they are.  This deep and very human longing is the subject of a new book entitled Not Who I Imagined (coming in March!) by my friend Margot Starbuck.  I had a chance to talk to her about some of these themes in her book, and am delighted to share them with you here today, as a guest blog: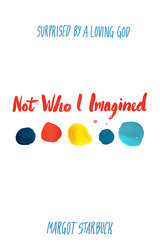 Margot, after you were adopted your childhood home had violence, addiction, divorce. Did this book spring from your own journey in some way?
Yes.
Next question?
Well, what my experience taught me was that I wasn't really worth showing up for or sticking around for. I wasn't worth loving.
Because kids are egocentric, they can't factor in the adult reasons for absence. That my caregivers were stuck in addiction, and violence and mental illness didn't matter to my little heart. That my dad was technically leaving my mom didn't matter. As a kid, it was all about me. That's how kids are wired. In my experience, my dad left me. I think we carry that stuff with us into adulthood.
Stuff called shame.
And we look for a face that will satisfy our deep places.
My story was adoption, addiction, divorce. Someone else might have lost a caregiver's daily presence to death, or military or the office. So we're hungry for that gracious face that sees us, hears us, and receives us exactly as we are.
Not Who I Imagined gives sketches of the Face that is able to satisfy.
One-hundred percent of us were raised by imperfect people. So, what happens when the earliest faces in a child's life aren't able to perfectly reflect a child's worth?
The face that lies is that countenance that persuades us we are other than who God has declared that we are.
About fifteen years ago Disney remade a movie called The Kid, starring Bruce Willis as Russ Duritz—a high-powered spin doctor—and his seven-year old self. The seven-year old "Rusty" believes he was responsible for his mom dying from cancer. He armors up, emotionally, and becomes a big ol' thirty-nine year old jerk. What that kid needed at seven, what he needs at thirty-nine, is for a trustworthy face to look him in the eye and tell him, "You were just a kid. You're not responsible." He needs a face to confirm that he's acceptable and he's worth loving. When he receives that, everything changes.
I think the same thing can happen in the not-Disney world. German psychologist Alice Miller describes what she calls a "helping witness" or an "enlightened witness." This is someone who, either in the moment or years later, reflects that you're worth more than you got.
You're worth loving.
And, of course, a child or adult might encounter the gracious face of God.
That's what happened for me. When I finally saw that face clearly, one who gave His life for me, I finally realized I was WORTH loving.
And when I received God's gracious face, I began to recognize it in the human faces God had provided on my journey. God uses human faces to mediate his own.
Another beautiful cinematic representation of this is the movie The Knights Tale. When a poor peasant steals the identity of a knight, he's put in the stocks. But a royal—who'd experienced grace and dignity from the peasant—knighted him and, in essence, said, "I know who you really are." We all need someone who says, "I know who you really are."
A lot of kids—and adults!—today are hungry for a face that satisfies the deepest needs of their hearts. And you say it only takes one person to be that formative face. Say some more about that…
Yup, the research of Alice Miller confirms it. It could be a teacher, a neighbor, a Sunday School teacher, a social worker. Anyone who reflects, for a child, who they really are. It's such a huge gift.
A young woman named Michelle Tolentino grew up in the Philippines and received a sponsor through Compassion International. Michelle's family members had told her that she was ugly and she'd grow up to be nothing more than a thief and a drug addict. Michelle's sponsor, however, told Michelle that she was beautiful and that she loved her. In partnership with the local Compassion folks who poured their lives into Michelle, that face made all the difference.
I have a friend who's life and marriage and business all sort of blew up at the same time. His life just crumbled through his hands. He fled and holed up in a distant city, staying in a dark room and drinking. One day a friend hopped on a plane and came to find him. He looked into my friend's bleary eyes and said, "I know who you really are."
For all of us, the face that sees who we really are, the voice that affirms it, makes a difference. 
Thanks Margot!  I hope you sell a million books! (Find Margot here)