We all wear masks at times – don't we? - Sometimes it might be intentional – to portray ourselves as something other than we are while at other times a mask may come over us without our awareness – maybe as a form of self protection, lack of confidence in a given situation, or excitement.
What's most important is to always remember who we are behind the mask.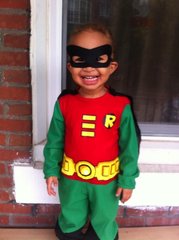 I was reminded of this truth this year on Halloween day as my daughter shared a conversation she had with her 2-year-old (dressed up as Robin, to partner with her older sister's Batman) in preparation for trick-or-treating. 
Chelsea: "Zara, today when people say, 'Who are you?' you say, 'I'm Robin,' OK?"
Zara: "OK, Mommy."
Chelsea: "OK, let's practice. Who are you?"
Zara: "I'm Zara!"
This sweet story about a two-year-old, utterly confident in her own identity, no matter what costume or mask her mother dressed her in also teaches an important lesson for all of us who love, live with and/or work with teens.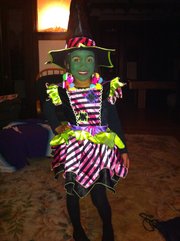 Never are we more likely to wear a mask than during adolescence.   Masks provide teens with opportunities to "try on" different identities as they awkwardly make the transition from "child" to "adult."
As teens experiment with hairstyles, clothing, piercings, tattoos and other external symbols they are really seeking to answer the age-old question, "Who Am I?"  It's a time to establish their own sense of self, in relation to the others in their life – parents, siblings, friends, classmates, and even celebrities within "pop culture."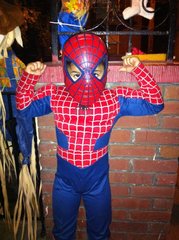 Trying on, discarding, retro-fitting and creating a variety of masks is a normal and necessary part of adolescent development and eventually most teens will "find themselves" and the masks will settle into a corner in their closet along with last-year's toys and yesterday's clothes – only to be taken out in moments of nostalgia, insecurity or grief.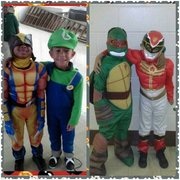 The most important ingredient required to help teens get through this growth process is to ensure that they have a solid foundation – a strong core sense of who they are and that they are deeply valued for who they are.  While they may seem to stray from this core at times, this is exactly what will help them to distinguish their true identity from the masked personas they may take on as they grow.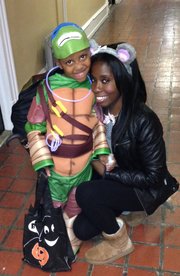 The best way for kids to get this strong sense of identity is to belong to a family – a family that is theirs for a lifetime.  A family that will stick with them through turbulent times, a family that knows their inner beauty even when they are feeling like an ugly duckling.  A family that can handle the "mask-wearing" teen years with unwavering commitment to the valuable person behind the mask.  A family that is honored and acknowledged as central to the child's life, even when the child is caught up on one or more of the "child-serving" systems in our communities.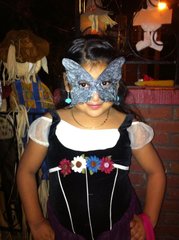 All children need the stability that only a family can provide, and all families need support as they raise healthy children in a world filled with challenges far scarier than any Halloween masks.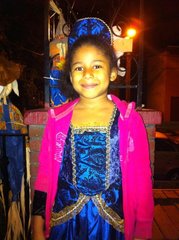 When it comes to children in foster care, juvenile justice, special education or disability systems – my sweet granddaughter's pronouncement of her own identity behind the mask reminds me of the need for all of us who care about the youth in our community to do a better job of looking past the mask of the moment – whether the child is wearing a mask (often mostly seen through behaviors) designed to shock, confuse, intimidate, isolate, or scare away anyone who comes near – and truly see the priceless one-of-a-kind child behind the mask. 
As a community, how can we step up and do a better job of helping the most vulnerable children in our midst to be as confident in knowing who they are as my little granddaughter Zara is?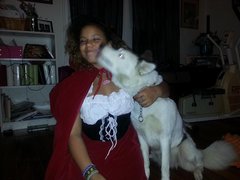 How can we best support, equip and honor the role of parents' in the lives of children – all parents – parents by birth, adoption, kinship or other bonds?
How can we look at all children – and their families -  through God's eyes – "remember – people look at outward appearances, but God looks at the heart . . . ." (I Samuel 16:7 excerpt).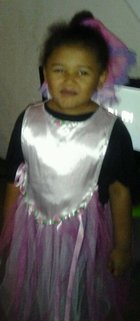 This year, I pledge to work harder towards creating the kind of communities that offer no tricks -  just treats -  not only for the little goblins, and budding super-heroes in our midst, but for the "hooligans" and "trouble-makers" too.  The "trouble" is nothing more than a mask.    
And if I see a child who doesn't know who she is  behind the mask,  I vow to re-connect that child with a sense of self within the bonds of family and community. 
Will you join me?