Last night as I crawled into bed, my entire body ached, especially the knee on my "driving leg."  I arrived home after 11 PM after driving hundreds of miles to return several grandchildren to their homes out-of-state following their annual week in Philadelphia with Nanna and Poppa.  Along the route between their homes and ours, I passed the sites of places, some intact, and some long gone that reminded me of special summer moments with my own family- the "Dog Team Tavern" restaurant where I first experienced getting dressed up to go out to dinner, and the "Lady Shelburne" boutique where I was treated to my first (and only!) bikini.
While the out-of-state grandkids were here, the local grandkids also gathered and together the gaggle of cousins ate their favorite foods (including grasshopper pie),  spent hours in the pool, shared stories, whispered secrets and giggles and took lots of pictures.  The many hours of driving and the extra dollars spent on food and activities are worth it because we consider it an investment in their future - we are weaving memories into a rich tapestry which will - we hope and pray - stand the test of time and create a lasting legacy for generations to come.  Our own childhoods are filled with memories of similar hot, lazy summer days with grandparents.  
It is on the heels of that trip, that I am pleased to participate in a "Blog Tour" for my friend and author, Miriam Jones Bradley, as part of the launch of her new book All I Have Needed-A Legacy for Life.  This book is filled with stories about the ways that grandparents, cousins and other family members create the lasting memories and legacy for children - I hope you will enjoy her post, below, and go on over to Amazon to order the book! (While there, check our her other books too!)

http://www.amazon.com/Miriam-Jones-Bradley/e/B005K91BJA 
Why Do I Do This?, guest post by Miriam Jones Bradley,  author of All I Have Needed- A Legacy for Life and also the Double Cousins mystery series for young readers.
There are days when I wonder why on earth I am doing this. What made me think I could be an author? What is it that pushes me ahead, motivating me to keep on going in the face of discouragement?
There are several reasons, probably some I don't even recognize, but here are the three biggies.
First—God. I am coming to realize more all the time how much God has been and is guiding the events of my life. The things I have accomplished, the places I have been, the dreams that have been fulfilled, and even those that have been unfulfilled are all orchestrated by God. I can see it—sometimes as it is happening—and always after the fact. Like the phrase in the song "Great Is Thy Faithfulness" that says, "All I have needed Thy hand hath provided," God has given me everything I need to do what He wants. God made me who I am. I am a teller of stories. I am a fixer. I like to take care of people. I want to help people do better. This writing and speaking is a gift from God. But even more, it is a responsibility. I believe this is something I am supposed to do. Therefore, I must do it.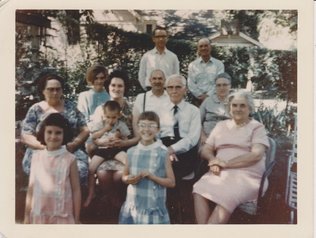 A second reason is the people who have gone before me. They were my inspiration. Their story-telling captured my mind. Their love and faithfulness led me to desire to tell their stories. They and their stories must not be forgotten. I am proud of my heritage, and I want everyone to know how special my grandparents and parents were and are! I want others to benefit from the legacy of life lessons they left me. If we don't learn from the wisdom of the ones who have gone before, we are doomed to make unnecessary and hurtful mistakes.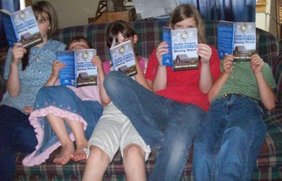 The final reason involves the people who are coming after. I don't understand why God chose not to give us children of our own here on earth, but God does all things well. He doesn't make mistakes. I do know that I treasure the children in my life all the more. I am not childless. I just borrow other people's children. My nieces and nephews are the smartest, most beautiful children I know. They make me laugh. They inspire me. Sometimes they make me cry. They look up to me—incredible. I come alive when I am with them. They give me more than I could ever give them. My goal has been to teach them the things they will need to be successful in life. Unfortunately, sometimes it seems like the things they remember aren't the ones I intended—things like eating ketchup with pinto beans is really yummy, or throwing spaghetti on the ceiling to see if it will stick is a good way to test if it's done—but I'm hoping that along with those fun things they will remember the more important life lessons. Lessons like "right feelings follow right actions," and "you can choose your actions, but not your consequences." And the most important one—bring Aunt Miriam chocolate when she is old and in the nursing home. Just kidding … kind of …
So there you have it.
Why do I write?
I write because I want to glorify God by being who He made me to be. I write to remember and to help others remember those who have gone before us. I write so the children will know the truth that they can accomplish whatever dreams God puts in their hearts. I write to leave a legacy.
http://www.amazon.com/Miriam-Jones-Bradley/e/B005K91BJA
A legacy for life.