In our large family, we celebrate all the birthdays in a given month on one day. Every birthday honoree gets to select their favorite food as part of the menu - so you can imagine we have some eclectic feasts for these birthday celebrations. 2 weeks ago, as we celebrated the June birthdays, I asked what my 2-year-old granddaughter Zara would like for her part of the menu.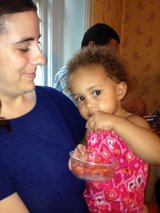 "Tomatoes," her mother told me.
"Tomatoes?" I asked. "Just tomatoes?"
"Just tomatoes - she loves them, its her favorite food these days!." So - she got a whole dish of summer-fresh tomatoes chopped into bite-size pieces perfect for her little hands. This took me back to my own childhood when I used to tag along with my grandfather as he tended his garden. He would pick a ripe tomato for me and I would eat it like an apple, letting the juices dribble down my chin.
Ahhhh . . . . great summer memories - and it reminded me of some reflections I wrote one summer before I was blogging about life lessons I gleaned from my Papa's garden. So, today, grab yourself a fresh tomato and join me for a walk through Papa's garden!
Reflections from the Papa's Garden
"And the LORD will continually guide you, And satisfy your desire in scorched places, And give strength to your bones; And you will be like a watered garden, And like a spring of water whose waters do not fail. Isaiah 58:11
When I was a child, my grandpa, "Papa" had a huge garden, and I loved spending time watching him work the garden. Being the pesty little kid that I was, I peppered him with questions. "Papa, Why are there more of these plants than those?" "Papa, Why is this one in the shade?" "Papa, Why do those need stakes to hold them up but the others don't?" "Papa, Why do some look so pretty?" "Papa, How can you tell the weeds from the good plants?" And so on. . . . and on . .. .and on!
He was always so patient to answer me, and I learned many life lessons there in Papa's garden.
Over the years, I have learned that being a mom, particularly being a mom to children with special needs is a lot like being a gardener. You prepare the soil. You plant, you water. You fertilize, weed, prune and most of all you pray, and watch and wait. Some flowers need lots of light, others need a cooler, darker, damper place to grow. Water this one every day - that one only once a week. This one needs rich soil, this one does better in a sandy base.
So much to keep straight.
You have no control over the elements - the sun, the rain, the wind. Early frost, squirrels, vandals. You pray and watch and wait.
Some children are like zucchini- it seems they will grow and thrive anywhere. Some are more like hot-house flowers – all conditions must be just "so" for them to reach their full potential. Some require so much more work than others – but can you imagine what boring gardens we would have if we all opted for nothing but zucchini!
When a bud appears on a plant, you rejoice and marvel in wonder at its beauty as if unfurls. When one begins to bow, or break, you carefully seek to provide it with extra supports and strength. You tie it to a stick, you give it extra TLC. If it makes it you sing, if it does not, you weep.
Sometimes, your best efforts are not enough and sometimes, the resilience of a plant to make it in spite of all your mistakes amazes you.
And now, I am a grandmother too, and one of my darling grandsons has a form of autism. He and some of other children with various "labels" to me are simply the quirkiest plants in our family garden. While the other grandchildren call me "Nana", he calls me "Bama". Hearing him say, "Bama" in his endearing little voice can light up my heart in a way that nothing else can. He is so smart! His favorite subject is the Statue of Liberty and he knows everything about it. He is so annoying! He can repeat the same word, or song or activity for hours on end. He is so intense! He will melt down completely if a particular little toy is misplaced. He is predictable, yet he can also be unpredictable. He is adorable, yet he can also be maddening.
He is not a zucchini. But he is a magnificent addition to our garden.
Now He who supplies seed to the sower and bread for food will supply and multiply your seed for sowing and increase the harvest of your righteousness; you will be enriched in everything for all liberality, which through us is producing thanksgiving to God. For the ministry of this service is not only fully supplying the needs of the saints, but is also overflowing through many thanksgivings to God. II Corinthians 9:10-12