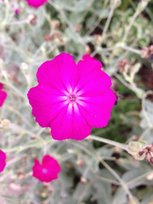 This LITTLE Light of mine . . .. (Part I)
This morning while walking through my neighborhood, a teeny tiny flower caught my eye. It was a bold and vibrant shade of fuchsia*, but so small I nearly missed it. Soon, I was specifically seeking the smallest nuggets of beauty nearly hidden amidst the blades of grass and bigger, more dramatic flowers. Most of these itty-bitties were less than a quarter-inch in diameter and I had to get into some uncomfortable and awkward positions to scooch myself down close enough to the ground to fully appreciate (and photograph) these gems.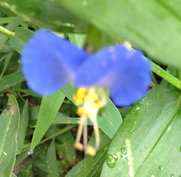 As I did this, the children's song, "This Little Light of Mine" began to play in my head. When children are singing it, we mostly focus on the words "light" and "shine" as they enthusiastically hold their little fingers in the air and nearly shout out the word "shine!" The song builds to an even greater crescendo when they come to the line, "Hide it under a bushel?" as they vigorously and boldly declare "No!"

Rewind a bit.
Focus on the word "little" – This little light of mine.

Sometimes I think we fail to shine our own light to the world because we fear it is too little. Too insignificant. Too fragile, or weak, or ineffective. We fear we are not good enough to make a difference.

I mean seriously, if your power goes out, are you going to reach for a tiny birthday candle or a Coleman kerosene lantern? So out of false humility or fear or pride or even laziness we hide those little lights under a bushel, waiting for them to grow into something bigger, or worse, letting them die out altogether.
But this is where we get it wrong. It is precisely the tiniest bits of light that make the most impact in our world. Little sparks of light and beauty where they are least expected. Our world would be awash in light if everyone let his or her little light shine.
Do you have a little bit of love? A little kindness? A little hope? A little faith? Someone in your corner of the world needs that right now.

Let it shine.
(PS – come on back tomorrow for Part II – I have a few thoughts about children who have experienced trauma and hiding lights under the bushel . . ..)
(PPS - If you think I misspelled fuchsia, check out this interesting blog - http://petscribbles.blogspot.com/2012/02/is-it-fuchsia-or-fuschia.html )