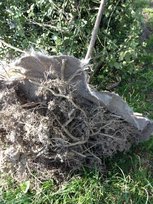 "There are two things we should give our children: one is roots and the other is wings." (Hodding Carter, Jr, borrowed from the Reverend Henry Ward Beecher.)
I walk each morning seeking images of beauty to photograph and reflect on for the day. Many of my photographs are of healthy flowers, budding new life and vibrant greenery. But one day, I found this image of a rooted tree strangely beautiful.
It's that time of year – digging, weeding, planting; re-planting and landscaping activities are in full swing. As I walk through my neighborhood it is not uncommon to see uprooted plants and trees such as this one, roots and all, plopped on the ground withering and possibly dying. What was it about this lonely tree that captured my eye and thoughts?
It was the roots. Roots are amazing, really, when you think about it.
This intricate web serves many functions – from absorbing water and nutrients to feed the tree, to storing food for the winter, to filtering out harmful chemicals, to anchoring the tree in the soil so that it can grow tall, healthy and strong, surviving the winds and storms of life.
Every tree, from the tiniest acorn to the mightiest – and oldest – oak relies on a robust, sturdy, healthy root system. When a tree's root system is disrupted, torn apart or otherwise damaged, the tree will die.
Strong families perform these same functions for children as they grow and mature. And just as is true for trees, humans of all ages – from babies to seniors – need robust, sturdy, healthy root systems to survive and thrive.
When children cannot remain in their family of origin for reasons of abuse, neglect, abandonment, parental death, famine, war, natural disasters or other calamities, we must all band together to ensure that their roots are preserved while we quickly and efficiently work to safely transplant them into new soil.
A few tips from websites devoted to helping do-it-yourself landscapers successfully transplant trees also offer remarkably astute insight into what it takes to successfully support a child who has been displaced from his or her family. For example:
From About.com: (http://landscaping.about.com/cs/shrubsbushes/ht/transplanting.htm)  
Transplanting trees and shrubs appears an easy task -- deceptively so. Many transplants die due to improper removal or installation. 
Once you dig up the plant, the longer its roots go without a home, the lower your chances for successful transplanting. 
 And from Lowe's: (http://www.lowes.com/cd_Transplanting+Mature+Trees+and+Shrubs_674265371_  
For a transplant to be successful, you must include as much of the plant's root system as is reasonably possible. 
 Providing plant care after the transplant is critical as well. 
Expect a transplanted tree or shrub to take several years to fully recover from being moved. The plant may not bloom or produce new growth until it adjusts to its new home. 
Powerful words of wisdom. Worth reflecting on and considering – "how can I apply these tips when caring for or supporting a child in my home or community?"
What I find most fascinating about roots is that they are always referred to as "root systems." Trees do not survive with a single root branch, or even two, extending into the soil. Their root systems are vast, deep and complex.
In the same way, children need more than just a parent or two to thrive. This is the fundamental wisdom behind the African proverb that it takes a village to raise a child.
Children need their siblings, aunts, uncles, cousins, grandparents, neighbors, and caring people within their church, school and community to form a fully functional and supportive root system that will allow them to grow and flourish.
My friend Miriam Jones Bradley has just published a book, All I Have Needed: A Legacy for Life. This book is a treasure trove of stories that prove and validate the incredible importance of the entire root system in the life of a child, even a child who has experienced the profound trauma of losing her mother at a tender age.
Are there children in your life sitting on a sidewalk with exposed roots, withering from the heat, lonely, frightened? How can you make a difference in helping to preserve, strengthen and enhance the root system for this child?
"For he will be like a tree planted by the water, That extends its roots by a stream And will not fear when the heat comes; But its leaves will be green, And it will not be anxious in a year of drought Nor cease to yield fruit."  Jeremiah 17:7-9