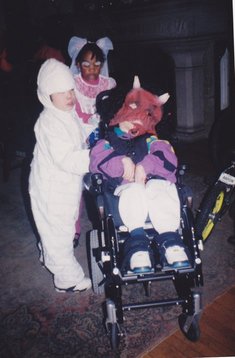 I remember when my children were small reading stories like Maurice Sendak's "Where the Wild Things Are" and playing games at bedtime to shoo the monsters away. What child isn't afraid of monsters under the bed at some point in their childhood, and what parent hasn't sought to keep their child safe from monsters real and imagined? The only monsters I wanted in their lives would be make-believe, like those in this precious photo of my now-deceased sons Dylan and Wayne, with our daughter Alysia on a long-ago Halloween.
I've thought a lot about monsters since the bombing in Boston. Like many others throughout the country, after working all day last Friday; I was glued to the television in the evening watching the updates and final capture of the young suspect in the Boston Marathon bombing tragedy. As a New Englander by birth, with many family and friends still living in and around Boston, some of whom were participants in and spectators at the Marathon, I was weak-kneed with fear and horror the day of the bombing and continued to feel personally connected to the unfolding events all week.
Yet, I was equally horrified by some of the words used on television broadcasts and online blogs, Facebook, and the twittersphere about the young man who committed this terrible crime. The most common word I heard was "monster" and many were using vile and hateful language to describe him, or anyone who even suggested that he should be treated humanely, read his Miranda rights and provided with the full scope of the justice system. Often these words were spoken or written by people boldly proclaiming their Christian faith.
And yet, the Bible verse that kept reverberating in my own mind was this one: Bless those who persecute you; bless and do not curse. (Romans 12:14)
The same passage goes on to instruct us, people of faith, as follows, "But if your enemy is hungry, feed him, and if he is thirsty, give him a drink; for in so doing you will heap burning coals on his head."
Do not be overcome by evil, but overcome evil with good."
I do not believe that any human being is a monster. When we sink to that level of calling other humans monsters, we are beginning to be overcome by evil, rather than overcoming evil with good.
Do not be overcome by evil, but overcome evil with good."
Granted, people can do monstrous things, and the bombing in Boston is clearly a stunning example. But inside every person, no matter how monstrous their actions, there is still the little boy or little girl, created in God's image, indelibly endowed with a human heart and a human spirit. And as long as that individual still draws a breath and has a heart that beats, there is always hope.
Do not be overcome by evil, but overcome evil with good."
Hope that the swords of their monstrous acts will be transformed into plowshares of peace.
This is important not only as it relates to events in the news, but as it relates to building bridges of hope for children who have experienced trauma. Believing that the perpetrator of violence that caused their trauma is a non-human monster actually makes healing harder.
Monsters are scary, unpredictable, out-of-control and larger-than-life. And since many times children experience trauma at the hands of their own fathers, mothers, brothers or sisters, viewing them as monsters means that they must also believe they have a little bit of monster in themselves, a frightening and overwhelming thought.
When children – and adults – who have experienced trauma can learn to accept the perpetrator as a flawed human being, a person who may have committed monstrous acts, but who is not, at the core a "monster", then they can re-write the narrative of their own story.  The perceived larger-than-life monster shrinks down to human proportions and healing can take root.
Do not be overcome by evil, but overcome evil with good."
They can begin to understand their story in a new light, a light that allows room for forgiveness, for healing and for hope. No matter how heinous the actions committed by a fellow human being, we must never give up the notion that there is hope for transformation.
And when we believe there is hope for every person, we can begin to accept that there is hope for ourselves, our children, our families, our communities and our world.
I want all children sleeping well at night, convinced that there are no monsters under the bed, or lurking around the next corner.
Will you join me in blessing, and not cursing, those in our world who are most in need of the light of hope?
Do not be overcome by evil, but overcome evil with good."