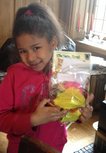 Every year, we give each of our (now-adult) children and our grandchildren an Easter basket.  In addition to a few pieces of candy, fruit and snacks, we also give them each a small gift with a symbolic meaning related to Easter.
One year, it was socks and foot care items, another special soaps and body wash.  One year all the gifts had a butterfly theme, while another year roosters were involved.  You can try to guess what the message was each of those years!
This year, we gave them each a gift card (gift certificate) for a little treat at MacDonald's, Starbucks, and the like.  Below is the "message" that they each received to go with their basket.
"Earlier this week, I gave someone a gift. It was a special gift and I thought about it for a long time before I bought it. It cost money, more than I really wanted to spend that day, but I thought the person I was giving it to was worth it.
The gift was like a special kind of gift card this person could use it to do all kinds of exciting things and have freedom! She wouldn't have to stay home, she could go places and do things. I was so excited to give it to her!
She took the gift and said thank you.
But then do you know what happened?
She put it in her wallet. She left in in there.
She never used it and then the time ran out. It expired.
Now she can't use it at all. Time's up.
I was so sad. I started to cry. The gift was wasted. She didn't get to enjoy the gift's benefits and blessings Instead of being valuable, it was now just a worthless piece of plastic in her wallet.
Then God showed me something. He showed me how this is like Easter and his love for us. God loves us so much that he gave us his son, Jesus, to die on the cross for us. To take OUR sins away. It's a GIFT.
And it gives us FREEDOM to have so many blessings in our life now and in the future – even after we die. WOW – what a gift!
But – and here is the big "but" – it will be worthless to us if we don't USE IT! If we just leave it in our wallet (or leave it in the Bible) it will be like the gift I gave this week. It will turn into a worthless piece of paper or plastic.
God will cry. He will be so sad if we don't receive all the blessings of the gift he has given us. He doesn't want such a special gift to be wasted.
To use a gift card – you have to go to the store and "cash it in."
But to use God's gift of forgiveness, and love and eternal life, all you have to do is believe in him and give him your heart and follow in his steps.
The gift I bought last week has now expired.
But God's gift has no expiration date as long as we are alive. It lasts forever. As long as we take it and accept it before we die, it is ours.
So – will you use God's gift or will you stick it in your wallet until it turns worthless?
Its up to you! Happy Easter.
He is Risen Indeed.