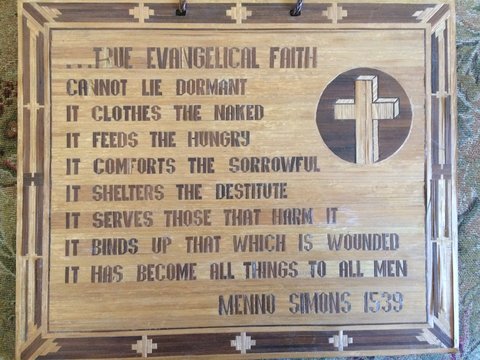 Today, as I post this, it is the day before the 2016 election. It has been an ugly season filled with hateful rhetoric. I want to take today to step back and look at how my deepest beliefs have shaped me and influenced the kind of person I have become as well as the decisions I make in the voting booth. I first penned this list in 2007, and updated it today to ensure that it still reflects my deeply-held beliefs. Every single candidate I vote for tomorrow - from the top of the ticket to every local office here in my home of Philadelphia will be the candidate who I feel creates the best path for these values to be implemented and sustained in our communities, our country and our world. Yes, for me, this includes a vote for Hillary Clinton at the top of the ticket. I hope you will read the entire blog, below, to understand the thoughts and feelings behind that choice.
"This I Believe"
I was in the audience at a "Faith Forum" in 2007 and the following day, I wrote a few reflections. Today – on the eve of the election of 2016, my reflections seem as relevant and true as they were then, but also even more urgent. So, I share them today almost a decade after originally writing them. These are the beliefs that will underlie my votes tomorrow.
Jim Wallis posed a question to the panelists in 2007, "If you were the president, what kind of moral and political imagination would you bring to finding some real solutions (to issues of poverty)?" When it comes to taking a serious, faith-informed approach to solving significant social justice issues such as poverty, I think the answer is that it requires BOTH personal AND corporate (societal) responsibility. So I will say a little more about both in terms of how this shapes my own approach to advocacy, politics and voting. –
Here is my top ten list:
1. I believe in taking personal responsibility for one's life and choices, including working hard to support yourself and your family.
2. I believe in taking personal responsibility to "do no harm" - ensuring that one's actions do not harm other persons or property (including the natural environment) and leaving other people we come into contact with AND the environment in a better condition than we found them.
3. I believe that we have a corporate responsibility to ensure that the social/economic/political environment is structured in ways that enhance and increase the likelihood that ALL participants in that society can be successful in taking the above personal responsibility. Recognizing that education and good health (both physical and mental) provides an essential foundation, I believe we have a corporate responsibility to ensure that genuine opportunities for and access to quality education and physical and mental health care are available to all. We also must recognize that systemic, structural, and historic racism, misogyny, and other forms of both implicit and explicit bias and historic trauma exist and need to be acknowledged and addressed through meaningful, respectful dialogue and action in communities and in our laws and policies.
4. Similarly, I believe that ANY person (including persons with disabilities) who is taking personal responsibility to work should be able to take home a life-sustaining paycheck, being safe and free from harassment while at work. Therefore, I believe we have a corporate responsibility for creating workplace regulations such as labor and industry health and safety standards, hiring and firing laws (anti-discrimination, etc) and wage standards.
5. I believe in what I call a "consistent ethic of life" and this covers a lot of ground from pre-birth, through death penalty. I believe we have a corporate responsibility to carefully analyze and act upon policies that are most likely to RESULT in the outcome of LIFE rather than just sound bites.
6. I believe in corporate responsibility for protecting and promoting the safety of the citizens, both in terms of national defense and civil safety - which is why while I believe that first and second line responders to safety situations (from the military to police force to fireman to social workers responding to abused children to emergency medical personnel to FEMA) need to have the resources, tools and supports needed to do their jobs well and efficiently and effectively we also need a hard look at and bold action related to our laws and policies related to gun violence, law enforcement, and mass incarceration, dismantling many of the very structures that promote and sustain a country in which far too many of our citizens are not safe in their daily lives.
7. I also believe there is a corporate responsibility to provide care and safety and well-being for the "least of these" among us particularly children, persons with disabilities, the elderly and those who are truly trying to take "personal responsibility" for their lives but are unable to do to circumstances out of their control, whether natural disasters in their communities or man-made disasters on a socio-economic scale.
8. I believe we have a corporate responsibility to care for our environment and to ensure that there will continue to be safe air, water and other natural resources for our children and future generations.
9. I believe that government serves us best when it focuses on the areas defined as true corporate responsibility and when it gets out of the way otherwise. So I believe in less government intrusion in areas related to personal lifestyle choices.
10. Finally, I believe every person in our society should have the freedom to worship - or not - in the manner or their choosing. As for me, personally, I am a Christian who loves Jesus and takes my faith very seriously and it is precisely that faith that informs and motivates all of the other beliefs that I have put forward above. I believe that these views are completely consistent with Biblical Christianity, however, I do not feel that a person would have to be a Christian to share these views and I believe that my fellow citizens, family members, and friends who are atheists, Muslim, Jewish, Buddhist, of from any other faith traiditon should have equal access to every opportunity our country affords and be treated with equal dignity and respect in their day-to-day lives without fear for their safety.