| | |
| --- | --- |
| Posted by Sue Badeau on April 11, 2013 at 10:15 AM | comments (4) |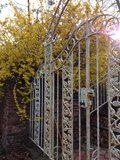 I love doors. Whenever I travel, I take photos of doors, windows and gates. Just this morning, out for my daily walk, I took another photo of a lovely gate in my neighborhood.
What does a door say to me? Doors are so rich with meaning, emotion, and possibilities.
A door says, "welcome". A cheery door, an open door, a door sur...
Read Full Post »